NSC Meetings are at 7:30 pm!
(except for Pizza Night, 1st Thursdays at 7 pm)
The club meets on the 1st, 3rd and 4th Thursday of each month
---
 Upcoming NSC Events:
12/6 – XMAS Party – Angelo's on Main – Good Food & Dancing more into >
12/12 – CSC Kids Day at Okemo  more info >
12/20 – Monday Night Racing Starts soon!!
2/18/2016 Tent.- Soup, Stew & Chili Night to benefit Skiers Unlimited.
3/4-6/2016 – On Snow Weekend at Sugarbush
3/13-18/2016 – SugarLoaf Ski Trip – 51/2 days, Daily group lessons, Condos – $469 adults
Feb/Mar 2016 – Club Race Day TBD- Location at Okemo THINK SNOW!!
---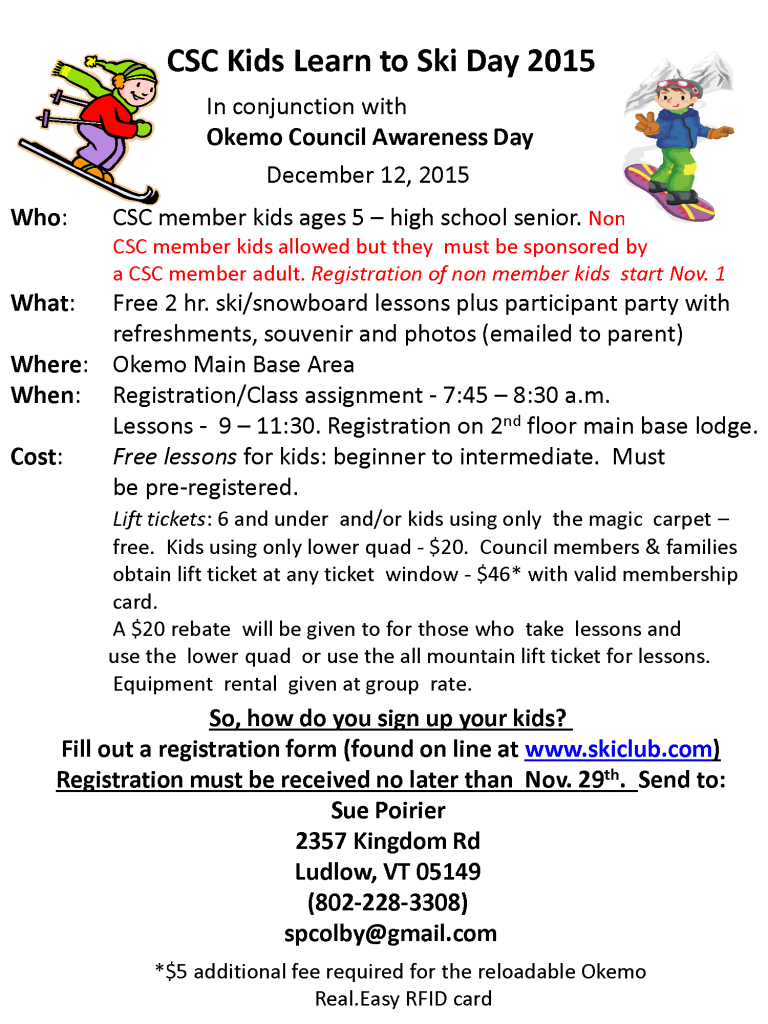 CSC Awareness Days 2015 – 2016
The preliminary CSC Awareness Days for Ski Season 2015-16 have been published. You will need a 2015-16 CSC sticker on your membership card to use the Awareness Days. More >
2015-2016 MEMBERSHIP SIGNUP TODAY!
Our membership drive is underway and will be discounted through October 31, 2015. Sign up now to avoid missing out on your discount. Bulk ticket orders must be turned in by October 1. Signup Now! >
See Jon Putnam, Membership Director, at a meeting or email him at jputnam01@comcast.net  to request your sticker(s), after completing your member registration.  Stickers will be available after 10/13/15 for registered members at any club meeting, open house or by snail mail after 10/31/15.
---

ANNUAL SUGARLOAF TRIP NEWS
This seasons Sugarloaf trip will be held March 13-18, 2016. Cost is a steal as always and includes 5 ½ lift ticket, 90 minute daily group lesson, slope side condo, welcome party. Non skiers or children 18 and under cost is $315.00. For those who would like their own room add $200.00. Contact John Hunter 860-635- 3257, email mtholly@sbcglobal.net or Adela Martinez at adela12@gmail.com.
---